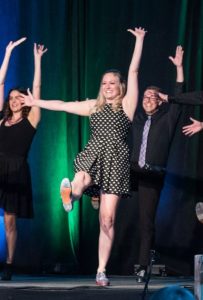 Carolyn Hebert est candidate au doctorat à la faculté d'éducation de l'Université d'Ottawa. Sous la supervision de Dre Rebecca Lloyd, la  recherche de Carolyn, financée par le conseil de recherches en sciences humaines (CRSH), explore le phénomène d'interaction au travers du rythme lors de session d'improvisation en claquette. Elle a complété sa maîtrise en danse à l'Université York en 2015, au cours de laquelle sa recherche portait sur les pratiques pédagogiques sexospécifique dans les studios de danse commerciaux.

Elle a présenté sa recherche à l'Association des études en Danse (Dance Studies Association) , à l'Organisation nationale d'éducation en Danse (National Dance Education Organization), à la Société canadienne pour l'étude de l'éducation et à la Conférence internationale sur la recherche en sciences humaines (International Human Sciences Research Conference).

En plus de ses études, Carolyn enseigne le mouvement créatif au niveau récréatif et compétitif, le ballet et la claquette dans divers studios de danse commerciaux de la région d'Ottawa.

---
Publications
Chapitres de livre
Hebert, C. (2017). Boys only!: Gender-based pedagogical practices in a commercial dance studio. In Oliver, W. and Risner, D. (Eds.), Dance and Gender: An evidence based approach (pp. 97-114). Gainesville: University Press of Florida.
Articles non-universitaires
Teaching to ability, not identity. (in press). Dance International
Movement Memory. 2016. The Dance Current . http://www.thedancecurrent.com/feature/movement-memory
Exclusion in Inclusion. 2015. The Dance Current, 18(6). http://www.thedancecurrent.com/feature/exclusion-inclusion