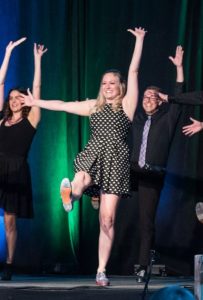 Carolyn Hebert is a doctoral candidate in the Faculty of Education at the University of Ottawa. Under the supervision of Dr. Rebecca Lloyd, Carolyn's SSHRC funded research explores the phenomenon of interactive flow in improvisational tap dancing. She completed her M.A. in Dance at York University 2015 where her research focused on gender-based pedagogical practices in commercial dance studios.
She has presented her research at the Dance Studies Association, the National Dance Education Organization, The Canadian Society for the Study of Education, and the International Human Sciences Research Conference.
In addition to her studies, Carolyn teaches recreational and competitive creative movement, ballet, and tap dancing at various commercial dance studios in the Ottawa region. She is a member of the Ottawa Rhythm Initiative Ensemble, a group of rhythm tap dancers that performs regularly in Ottawa, notably at the 2018 TD Ottawa Jazz Festival.
---
Publications
Book Chapters
Hebert, C. (2017). Boys only!: Gender-based pedagogical practices in a commercial dance studio. In Oliver, W. and Risner, D. (Eds.), Dance and Gender: An evidence based approach (pp. 97-114). Gainesville: University Press of Florida.
Conference Proceedings
Hebert, C. (2016). Mini & Macho, Small & Sexy: The Perpetuation of Heteronormativity, Hegemonic Masculinity, and Femininity Within the Culture of Competitive (Jazz and Hip-Hop) Dance. Congress on Research in Dance Conference Proceedings (pp. 208-216). Cambridge University Press. doi:10.1017/cor.2016.28
Non-Academic Articles
Teaching to ability, not identity. Spring 2019. Dance International 
Movement Memory. 2016. The Dance Current . http://www.thedancecurrent.com/feature/movement-memory 
Exclusion in Inclusion. 2015. The Dance Current, 18(6). http://www.thedancecurrent.com/feature/exclusion-inclusion